Enhanced Perforating
Technology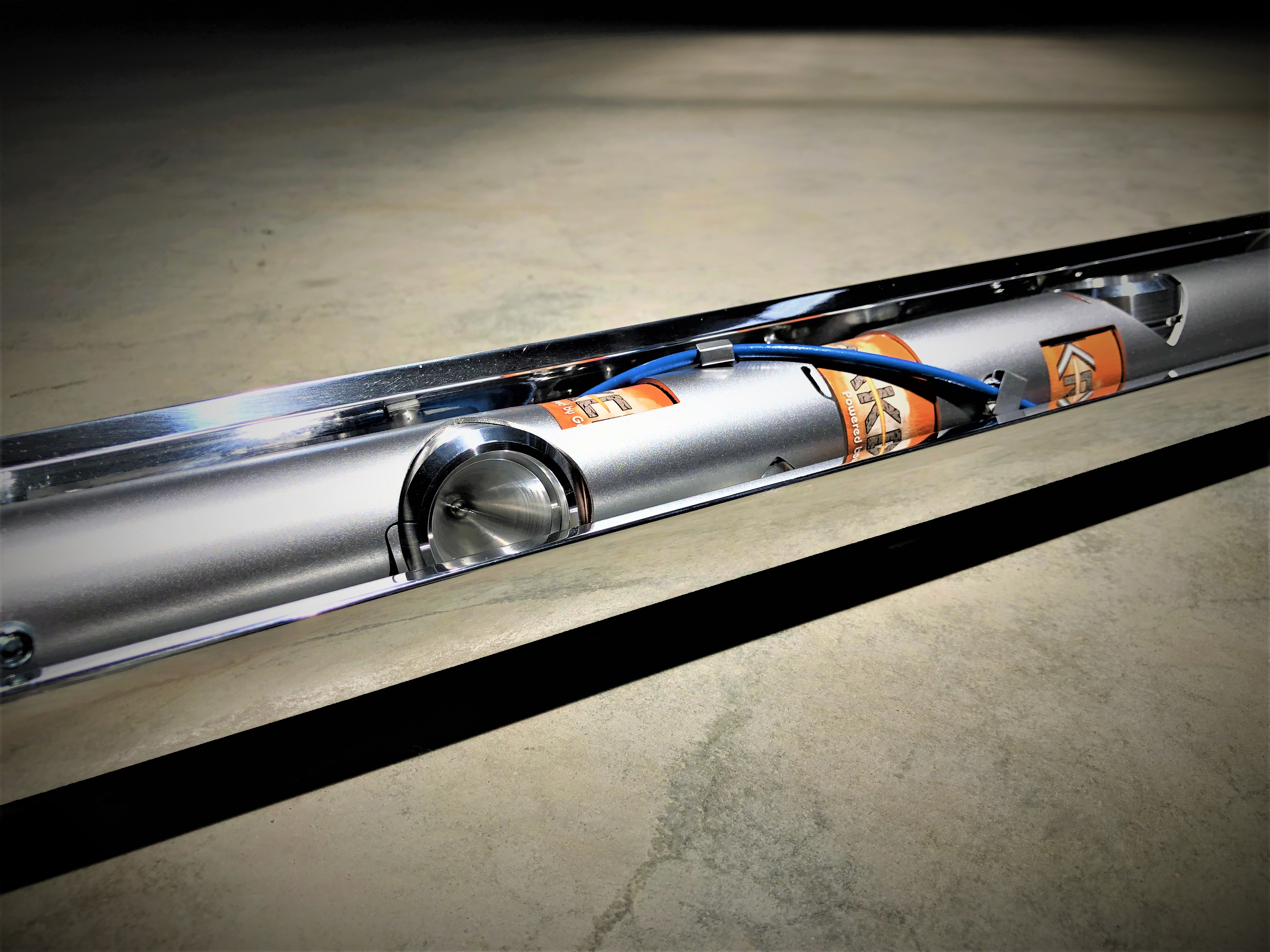 – Perforate and stimulate in one trip
– Create fractures in every perforation tunnel prior to hydraulic fracturing
– Remove skin to enhance productivity or injectivity index
– Breakdown the formation to lower treating pressures and improve pumping rates
Enhanced Energetics offers a proven propellant-enhanced perforating technology (U.S. Patent 10,024,145 B1) designed to lower total cost of operations and improve profitability of vertical and horizontal producing and injection wells. Kraken® enhanced perforating is significantly more effective than standard perforating at improving completion and recompletion performance in conventional, unconventional and saltwater disposal wells. Standard gun systems and shaped charges can easily be enhanced with Kraken technology.
How Kraken Works
Kraken technology is a progressively burning, solid propellant designed to increase penetration, eliminate clogged perforations and overcome nearwellbore damage from compaction caused by traditional perforators. Progressively burning Kraken propellant boosters generate high-pressure gas in the perforation tunnels, which creates fractures that improve well connectivity. Engineers who analyze Kraken results by breakdown pressure, initial production or injection (IP/II) increase, operating time and safety will observe that the return on incremental investment in enhanced perforating performance routinely exceeds their expectations.
– Gun size: 2.75, 3.125, 4.0, or 4.5 inches (70, 79, 102 or 144 mm)
– The Kraken perforating system is compatible with shaped charges that create a 0.32-inch entrance hole or larger. Equal entrance hole charges are preferred.
– Standard shot density of 4 shots per foot (spf).
– Standard shot phasing is 60 degrees. Shot phasing can be customized upon request.
– Compatible with nearly all firing methods such as addressable and select fire systems.
– Conveyance: Wireline, Pump Down, TCP, Coil Tubing, Tractor.
– Typical Gun Swell: 0.22 in (5.6 mm)
– Maximum pressure of 20,000 psi (138 MPa)
– 1-hour/10 hour temperature rating: 280 F [138 C] / 260 F [127 C]*
*Exceeding maximum temperture ratings can result in unintentional detonation
– The Kraken is approved for use with high pressure slick or high pressure scallop gun carriers
– Maximum 1-hour temperature rating is 280 F (138 C). Maximum 10-hour temperature rating is 260 F (127 C). ** Warning: Exceeding the maximum temperature ratings can result in unintentional detonation. **
– A minimum fluid column of 300 feet (100m) above the tool is recommended. An optimal level is 1000 feet (300m) or more. The Kraken perforating system is approved for use in fluid only. The tool must not be shot dry.
– A minimum 100-foot air cushion between the top of the fluid and the wellhead is required. – The fluid column can be anything compatible with the formation such as fresh water, brine, KCL water, oil, diesel, and most acids.
– Minimum distance from PBTD is 15 feet (4.5m).
– Minimum distance between a Kraken gun and a packer is 40 feet (12.2m).
– If there is a bridge plug in the well it is recommended that there be at least 20 feet (6.1m) of cement on top of the bridge plug.
Kraken propellant-enhanced perforating meets all industry standards for health, safety and environmental protection. Incorporating Kraken boosters with gun systems using standard or addressable perforating switches, shaped charges and primacord allows wireline service companies to apply proven approaches that target zero injuries, incidents and misfires/misruns.
Use of Enhanced Energetics equipment contrary to manufacturer's specifications or operating instructions may result in property damage, serious injury or fatality. If you are not trained in the handling and use of explosive devices, do not attempt to use or assemble any GasGun or Kraken systems. Explosives are destructive by nature. Do not attempt to disassemble or alter explosive products in any manner. Do not crush, hammer, pinch, impact, pull wires or abuse any explosive product.
Be sure to follow safe operating practices as found in API RP-67 in accordance with governmental regulations, company policies and manufacturer's recommendations.
The Kraken® boosters and charge tubes are designed, developed, tested and manufactured by Enhanced Energetics. Components such as the charges, carrier, detonating cord, etc. integrated with the Kraken system must be approved Enhanced Energetics prior to use. Failure to follow this warning along with the well preparation and fielding guidelines could result in damage to the carrier and/or downhole equipment.